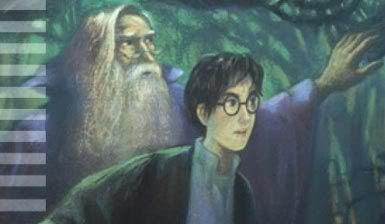 So it's all over the news, two characters will die in the last installment of JK Rowling's
Harry Potter
, to think that Harry himself would be one of the two is ludicrous, it's like telling our kids that in the battle of good vs. evil it's a 50/50 battle. What would be the point of all the work involved in first saving and then raising this young wizard if it wasn't that he was to eventually become the next Grand Wizard of something along those lines? Logic tells me that (he who shall not be named) will be one of the two, since in my world good must overcome evil, but Lord Voldermort (there I said it) started almost dead and now is more alive than ever... go figure!
Harry Potter is a survivor and is destined to better and bigger things than dying. His parents and godfather already did that for him and even though the death of his friend Cedric was a bit pointless, he can be added to that list. However there are people that must and will pay the ultimate sacrifice to ensure that
Harry Potter
fulfills his destiny and those are the two that will probably die.
This is the final year for Potter at Hogwarts and the book needs to be the one to remember the most, after all once Harry graduates we may never see him again, we will just have to assume he became the next Hogwarts school director. JK Rowling has said that she will never write another Harry Potter book after this one, she says she will have to learn to live without him, question is will my daughter Nikki get used to it, only time will tell in the meantime we patiently wait for the fifth movie probably due this year and of course the last
Harry Potter
book.
I have my two candidates that will be killed, do you? Leave me a comment with your thoughts on this matter.
Which two will be killed?